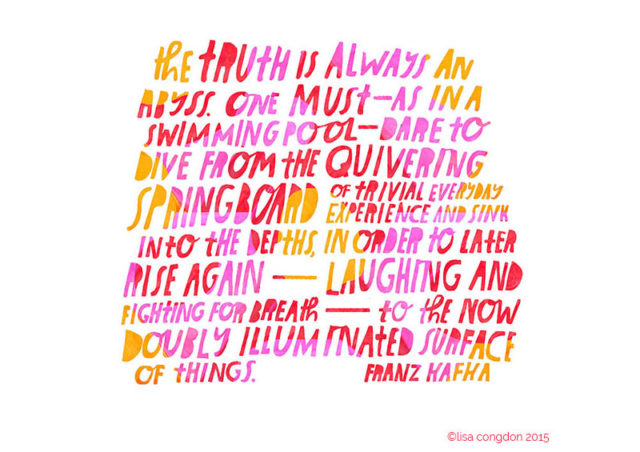 I've been a fan of
Oh So Beautiful Paper
for a long time, so today when I checked out a favorite series:
Brick + Mortar
, I wasn't surprised to find something that totally resonated with me. Much of the reason I've decided to take time away from my little business is the anxiety. You're not really given any time off (meaning weekends, nights, holidays) and perfection is the only avenue that is acceptable when it comes to wedding invitations and paper goods. It's not as if I sit down at 9 AM and turn off my computer at 5 PM. It's typically done between the hours of 8 PM - 2 AM and sparingly throughout the day when I get a minute to do a quick edit. There is seriously always something hanging over my head, and when I make my to-do list for the following day, it's hard to breathe sometimes, but I chose this life and I owe it to my brides to be spot on. It was so nice to see that other (much more successful) entrepreneurs have had the same panicked feeling I have had. I've highlighted some of my favorite portions of the post, but click through to read more!
I became a shop owner and a mom within the same year. Five years ago, I hit the ground running and didn't look back. Through Clementine I found camaraderie, work I'm good at, strengths I didn't know I had. But I forgot how to breathe. This world of creative small business owners is thick with inspiration; it zings with excitement. It is also filled with people who have a hard time turning off. We stay up late. We barrel toward the next thing. We skip everything, from lunch to vacations. We leave little space for things to go wrong. But anxiety and overwhelm lap at our heels. We all feel it, no matter how happy or pulled together we seem. Sometimes we pull ourselves together to feel it a little less.
--
Emily McDowell
Eventually I began to accept that things WILL go wrong. Sometimes it's out of your control, but sometimes it's something that was very much within your control that you managed to screw up royally. But the world doesn't end. And if you have an honest, humble discussion with whoever is on the receiving end of the screw-up, you get a chance to correct it 99% of the time. People are compassionate when you give them a chance to express it, and it helps me immensely to keep that in mind when I feel the fear rising.
--
Carrie Holmes
It's almost funny that now that I've decided to hang it up at the end of the wedding season, the brides that I've worked with recently have been some of the sweetest girls. I've received the nicest notes, sweetest instagram posts, and even some
awesome gifts
from past brides that have expressed disappointment I won't be continuing my business, but I'm so comfortable with my decision here. Here's to less stress and a more relaxed, casual attitude about keeping it together - and breathing!